Blueprint "Two-Headed Monster" MP3
$8.00
Although Blueprint is known primarily as an MC by most casual fans, those who are truly in the know understand how prolific and effective he has been as a producer throughout his career. In fact, during the early part of his career, he was known primarily as a producer, crafting the soundscape for multiple albums by Illogic and his crew Greenhouse Effect, as well as releasing two completely instrumental albums. That all changed when his Soul Position collaboration with RJD2 thrust him into the spotlight as an MC and his self-produced debut solo album 1988 showed he could rhyme and produce with the best of them.
Throughout the history of hip-hop, there have been many great producers and many great MCs, but very few who excelled at both.  With Two-Headed Monster, Blueprint shows once again that he a monster at both beats and rhymes.  Produced entirely by Blueprint, the album also features guest appearances from underground legends Slug of Atmosphere, Aceyalone, Mr. Lif, Wordsworth, Supastition, and Has-Lo. The result, is a soulful boom-bap album that adds onto the legacy of the great MC/Producers who paved the way before him.
Preorder your copy of Blueprint's Two-Headed Monster album now! Physical and digital copies will arrive May 22nd, 2018.
Track List:
01 Cleansing Process
02 Set it Off
03 Be Like Water
04 A Hero Dies Once
05 Don't Look Back
06 Night Writers – featuring Slug and Wordsworth
07 Masterpiece
08 Health Is Wealth – featuring Supastition and Mr. Lif
09 Two Headed Monster
10 Pump-Faking
11 Good Guys Get Ignored
12 All Shock, No Value – featuring Aceyalone
13 Hoop Dreamin – featuring Has-Lo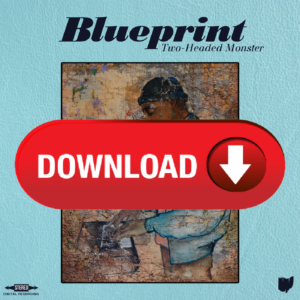 Description
CD packages:
a. Retail CD (unsigned w/ no extras) = $10
b. Deluxe CD Package = Signed CD + Signed 11×17 Poster + Lyric Sheet + Instrumentals DL Card  = $12
TOUR DATES:
Fri May 25th – Columbus, OH @ Ace of Cups (album release party) | TICKETS & RSVP
Sat May 26th – Dayton, OH @ Blind Bob's (album release party) | TICKETS & RSVP
5/31 Nelson, OH @ Nelsonville Music Festival | http://bit.ly/2pVLhsW
6/01 Asheville, NC @ The Sly Grog | http://bit.ly/2H3Q2ZA
6/03 Raleigh, NC @ Deep South | http://bit.ly/2Grasia
6/04 Charlotte, NC @ Snug Harbor | http://bit.ly/2q4ewLd
6/05 Columbia, SC @ Taps Art Center | http://bit.ly/2H3PSBB
6/06 Atlanta, GA @ 529 | http://bit.ly/2q0ybve
6/07 Dunedin, FL @ Dunedin Brewery | http://bit.ly/2JcTH7X
6/08 Fort Myers, FL @ Rack Em Billiards | http://bit.ly/2pYBLpI
6/09 Orlando, FL @ The Iron Cow | http://bit.ly/2Gt1UaD
6/10 Jacksonville, FL @ Rain Dogs | http://bit.ly/2GPLQiE
6/12 Baton Rouge, LA @ 524 Studios | http://bit.ly/2GJEZYu
6/13 New Orleans, LA @ The Howling Wolf | http://bit.ly/2JeeaJy
6/14 Houston, TX @ The Secret Group | http://bit.ly/2K4l5Vj
6/15 Austin, TX @ Flamingo Cantina | http://bit.ly/2uKw9V8
6/16 San Antonio, TX @ Limelight | http://bit.ly/2Ebr1Zu
6/17 Dallas, TX @ Wits End | http://bit.ly/2GJDFVw
6/19 Sante Fe, NM @ Shadeh Nightclub | http://bit.ly/2jGfCsH
6/20 Flagstaff, AZ @ Flagstaff Brewing Co | http://bit.ly/2H3fNJs
6/21 Las Vegas, NV @ Ninja Karaoke | http://bit.ly/2Edvv1J
6/23 Santa Cruz, CA @ The Catalyst Atrium | http://bit.ly/2pZg8ot
6/24 Berkeley, CA @ 924 Gilman | http://bit.ly/2GuFUbb
6/26 Stockton, CA @ Channel Brewing | http://bit.ly/2H5b22c
6/27 Sacramento, CA @ Blue Lamp | http://bit.ly/2GMLBo8
6/28 Lake Tahoe, CA @ Pick Six | http://bit.ly/2IkeKo8
6/29 Salt Lake City, UT @ Metro | http://bit.ly/2H1xc5f
6/30 Idaho Falls, ID @ The Gem | http://bit.ly/2GuOJpK
7/01 Boise, ID @ Shredder | http://bit.ly/2qrb0d4
7/02 Portland, OR @ Alberta Street Pub | http://bit.ly/2K7Bd8v
7/03 Bend, OR @ The Capital | http://bit.ly/2InEKyZ
7/04 Hood River, OR @ Undergnd Music Station http://bit.ly/2GMWuGz
7/05 Seattle, WA @ Nectar Lounge | http://bit.ly/2EeGLuK
7/06 Spokane, WA @ The PIN! | http://bit.ly/2ruLaW6
7/07 Nelson, BC @ Bloom Nightclub | http://bit.ly/2pZpJN3
7/08 Calgary, AB @ The Nite Owl (downstairs) | http://bit.ly/2q13uGc
7/10 Great Falls, MT @ Back Alley Pub | http://bit.ly/2Ip97F3
7/12 Denver, CO @ Larimer Lounge | http://bit.ly/2Hjg9vR
7/13 Tulsa, OK @ Fassler Hall | http://bit.ly/2GQ9QCa
7/14 Kansas City, MO @ Minibar | http://bit.ly/2JdjY6j
7/15 Lincoln, NE @ Duffy's Tavern | http://bit.ly/2Iqhwf3
7/16 Columbia, MO @ Rose Music Hall | http://bit.ly/2H3PSBB
7/17 Milwaukee, WI @ The Cooperage | http://bit.ly/2KNiLmP
7/18 Traverse City, MI @ Union Street Tavern | http://bit.ly/2rvLcgb
7/19 Ann Arbor, MI @ Elks Pratt Lounge | http://bit.ly/2HlTWgM
7/20 Osh Kosh, Wi @ Reptile Place | TICKETS & RSVP
7/21 Minneapolis, MN @ Ice House | http://bit.ly/2q0zfym
7/22 Duluth, MN @ Red Herring Lounge | http://bit.ly/2IE2pvb
7/24 Dubuque, IA @ The Lift | http://bit.ly/2IYFy1Q
7/25 Chicago, IL @ Empty Bottle | http://bit.ly/THMtourchi
7/26 Evansville, IN @ PG | http://bit.ly/2qiZGiX
7/27 Dayton, OH @ Hannah's | TICKETS
7/28 Columbus, OH @ 2×2 Fest | http://www.2x2fest.com
7/30 Portland, ME @ Space Gallery | http://bit.ly/2JwmHaX
7/31 Philadelphia, PA @ Kung Fu Necktie | http://bit.ly/2v07dZI
7/26 Evansville, IN @ PG | http://bit.ly/2qiZGiX
8/02 Albany NY
8/3 New York, NY @ Pianos
8/04 Buffalo, NY @ The Tabernacle | http://bit.ly/2xEguIr
8/31 Cincinnati, OH @ the Overcast Festival | http://bit.ly/2GsDePp
Two-Headed Monster Track list:
01 Cleansing Process
02 Set it Off
03 Be Like Water
04 A Hero Dies Once
05 Don't Look Back
06 Night Writers featuring Slug and Wordsworth
07 Masterpiece
08 Health Is Wealth featuring Supastition and Mr. Lif
09 Two-Headed Monster
10 Pump-Faking
11 Good Guys Get Ignored
12 All Shock, No Value – featuring Aceyalone
13 Hoop Dreamin – featuring Has-Lo
Additional information
| | |
| --- | --- |
| THM Album Packages | 01) CD (unsigned w/ no extras), 02) Signed CD + Signed Poster + Lyric Sheet, 03) Vinyl LP (unsigned w/ no extras), 04) Signed Vinyl LP + Signed Poster + Lyric Sheet + Instrumentals, 05) Digital Retail Version (MP3), 06) Digital Deluxe Version (MP3), 07) Small T-shirt Package + CD Package, 08) Medium T-Shirt Package + CD Package, 09) Large T-Shirt Package + CD Package, 10) XL T-Shirt Package + CD Package, 11) 2XL T-Shirt Package + CD Package, 12) Small T-Shirt + Vinyl Package, 13) Medium T-Shirt + Vinyl Package, 14) Large T-Shirt + Vinyl Package, 15) XL T-Shirt + Vinyl Package, 16) 2XL T-Shirt + Vinyl Package |