View cart
"Blueprint "King No Crown" MP3 Download" has been added to your cart.
Blueprint "King No Crown" Vinyl LP
$25.00
"King No Crown is an incredibly solid album from an artist who's been establishing himself as a unique voice in hip hop over the last ten-plus years. Blueprint has managed to make an album that is weird and experimental, while also remaining incredibly confident and accessible. It's one of his best efforts to date." – ScratchedVinyl.Com
"From the declaration of "breaking the mold" on "Black Intellectual" to the stripped down beats and rhymes of "Fist Fight" to the dope Weightless duet "Maybe My Generation" featuring Illogic, everything clicks and works." – RapReviews.Com
"King No Crown is just the latest installment in the lifelong pleasure cruise of watching one of my favorite rappers make classic album after classic album…" – Syffal.com
With his fourth studio album, King No Crown, critically acclaimed mc/producer Blueprint has continued his constant evolution by combining the boom-bap chops of his 2014 project Respect the Architect with the genre-defying aesthetic of his 2011 album Adventures in Counter-Culture.  The end result is 60-minutes of uninterrupted music that effortlessly transitions from song to song without a single moment of pause or silence.  Dense and dark, optimistic and poetic, King No Crown is unlike any previous Blueprint effort.  Lyrically, Blueprint provides his trademark honesty–paying tribute to hip-hop, lost loved ones, and the legacy of fallen artists Eyedea and J. Dilla–making King No Crown his most personal and conceptual project to date.
Blueprint's new album King No Crown is available now.
Track List:
1. Landing
2. The Talented Tenth
3. Unbreakable
4. Trump Tight
5. Nothing Like This
6. Not Afraid of the Dark
7. They Like Power
8. Black Intellectual
9. Persevere
10. Fist Fight
11. King No Crown
12. Live for Today
13. As Long As it Takes
14. Maybe My Generation – feat. Illogic
15. Great Eyedeas Never Die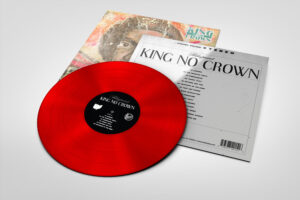 Out of stock
Description
Track List:
1. Landing
2. The Talented Tenth
3. Unbreakable
4. Trump Tight
5. Nothing Like This
6. Not Afraid of the Dark
7. They Like Power
8. Black Intellectual
9. Persevere
10. Fist Fight
11. King No Crown
12. Live for Today
13. As Long As it Takes
14. Maybe My Generation – feat. Illogic
15. Great Eyedeas Never Die
CD packages:
a. Signed CD = $7
b. Signed CD + Sticker + 11×17 Poster + Bonus Inst. Album
VINYL packages: (mp3 download card w/ all LP orders)
a. Orange 2XLP
a. Orange 2XLP + Stickers + Poster + Bonus Inst Album
Digital Packages:
a. Retail Digital Version
b. Digital Deluxe Version (contains Digital Retail Version plus bonus instrumental album Knight Takes Queen)