Respect the Architect and Two-Headed Monster Vinyl Reissue
When Blueprint's third official solo album Respect the Architect was released in 2014, it was immediately considered one of his best releases.  Whereas his previous album, Adventures in Counter-Culture, was forward-thinking and formless, Respect the Architect was a return to the boom-bap sound that fans of his 1988 debut album had been wanting for years.  The result was an album that spawned several of his best singles for the songs "Perspective (Bird's Eye View)", "Silver Lining," as well as the album's title track "Respect the Architect."  The vinyl for the project was just as popular, selling out just 30 days after the album's release.  Since then, fans have asked for a repress of this classic album, but there was no word on it until now.   For the first time since 2014, Blueprint's Respect the Architect album is finally available on vinyl again.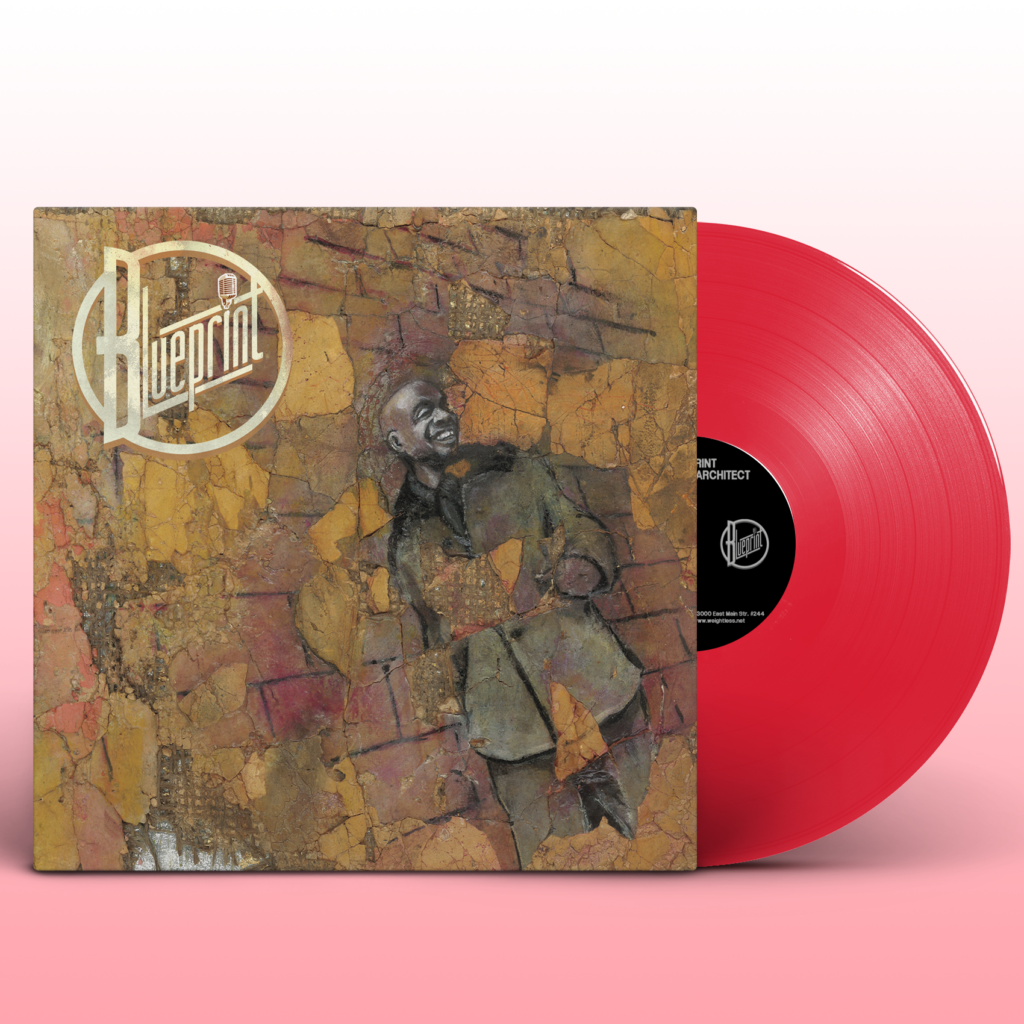 Another Blueprint album that fans have been requesting a repress for is his solo album Two-Headed Monster.  The 2018 album that features guest appearances from Slug, Wordsworth, Mr. Lif, Supastition, Aceyalone, and Has Lo is considered one of his best albums as well.   The vinyl for Two-Headed Monster also sold out within 60 days of it's initial release and hasn't been available since. That all changes with this repress as well.  For the first time in over two years, Two-Headed Monster LP will be available again on vinyl.
If you missed either of these releases the first time around, don't sleep this time because both are likely to sell out again.
There will only be 500 copies of the Respect the Architect and Two-Headed Monster LPs available for this vinyl repress.  Now shipping!
Here are the available packages:
RESPECT THE ARCHITECT PACKAGES
1) Respect the Architect LP ($25)
2) Respect the Architect LP + "The 10 Traits of Successful Hip-Hop Artists" Book ($40)
TWO-HEADED MONSTER PACKAGES
3) Two-Headed Monster LP ($25)
4) Two-Headed Monster LP + "The 10 Traits of Successful Hip-Hop Artists" Book ($40)
BOTH REISSUES TOGETHER PACKAGES
5) Respect the Architect LP + Two-Headed Monster LP ($45)
6) Respect the Architect LP + Two-Headed Monster LP + "The 10 Traits of Successful Hip-Hop Artists" Book ($60)
ADDITIONAL VINYL PACKAGES
7) Respect the Architect LP + Two-Headed Monster LP + Vigilante Genesis LP ($65)
7a) Respect the Architect LP + Two-Headed Monster LP + Vigilante Genesis LP + "10 Traits" Book ($80)
8) Respect the Architect LP + Two-Headed Monster LP + King No Crown 2LP ($70)
8a) Respect the Architect LP + Two-Headed Monster LP + King No Crown 2LP + "10 Traits" Book ($85)
ALL FOUR BLUEPRINT ALBUMS VINYL PACKAGES
9) Respect the Architect LP + Two-Headed Monster LP + Vigilante Genesis LP + King No Crown 2LP ($90)
10) Respect the Architect LP + Two-Headed Monster LP + Vigilante Genesis LP + King No Crown 2LP + "The 10 Traits of Successful Hip-Hop Artists" Book ($105)
Additional information
| | |
| --- | --- |
| RTA and THM Reissue | 01) Respect the Architect (RTA) Vinyl LP, 02) Respect the Architect (RTA) LP + "The Ten Traits" Book, 03) Two-Headed Monster (THM) Vinyl LP, 04) Two-Headed Monster (THM) Vinyl LP + "The Ten Traits" Book, 05) Respect the Architect (RTA) LP + Two-Headed Monster (THM) LP, 06) Respect the Architect LP + Two-Headed Monster LP + Book, 07) RTA LP + THM LP + Vigilante Genesis LP, 07a) RTA LP + THM LP + VG LP + Book, 08) RTA LP + THM LP + King No Crown LP, 08a) RTA LP + THM LP + VG LP + Book, 09) RTA LP + THM LP + VG LP + KNC LP, 10) RTA LP + THM LP + VG LP + KNC LP + BOOK |