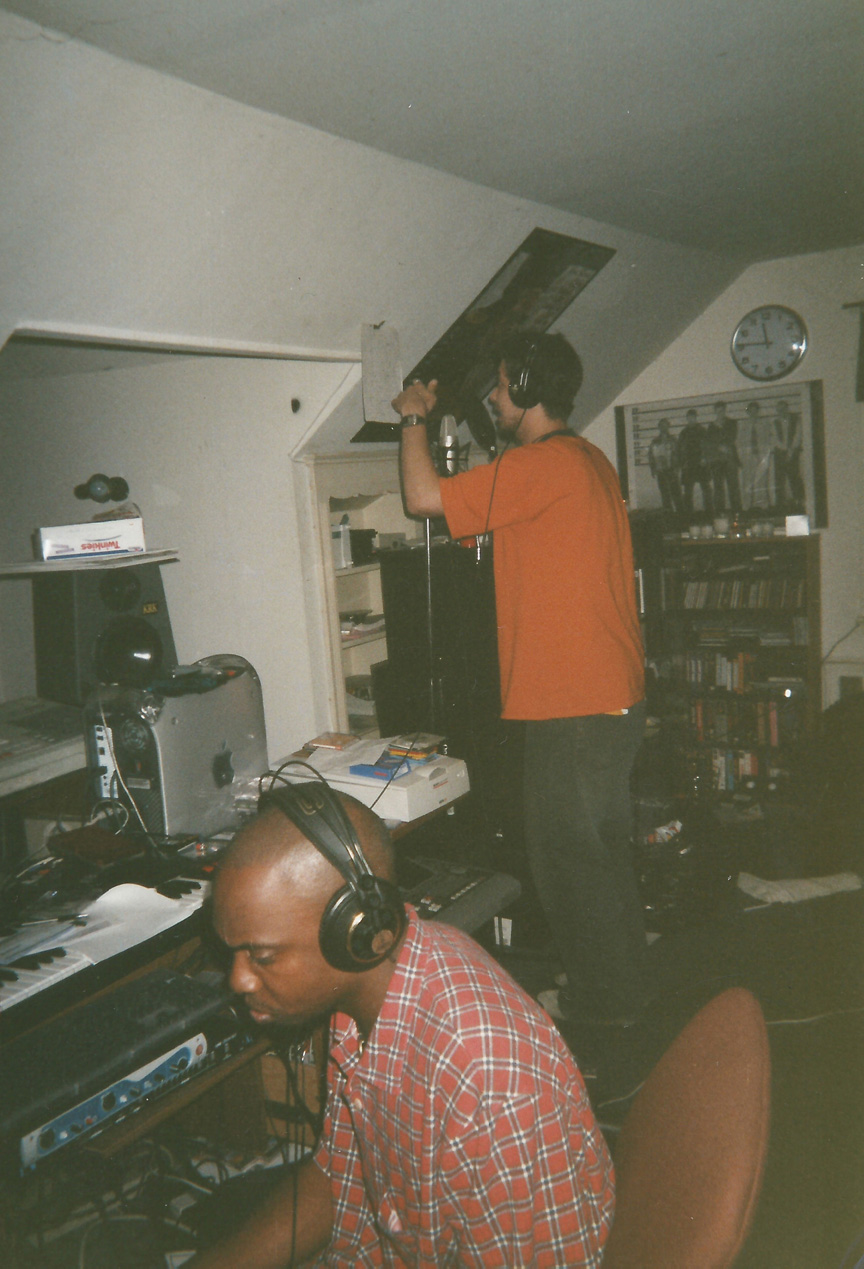 Blueprint Gives the Backstory to This 2001 Photograph with Aesop Rock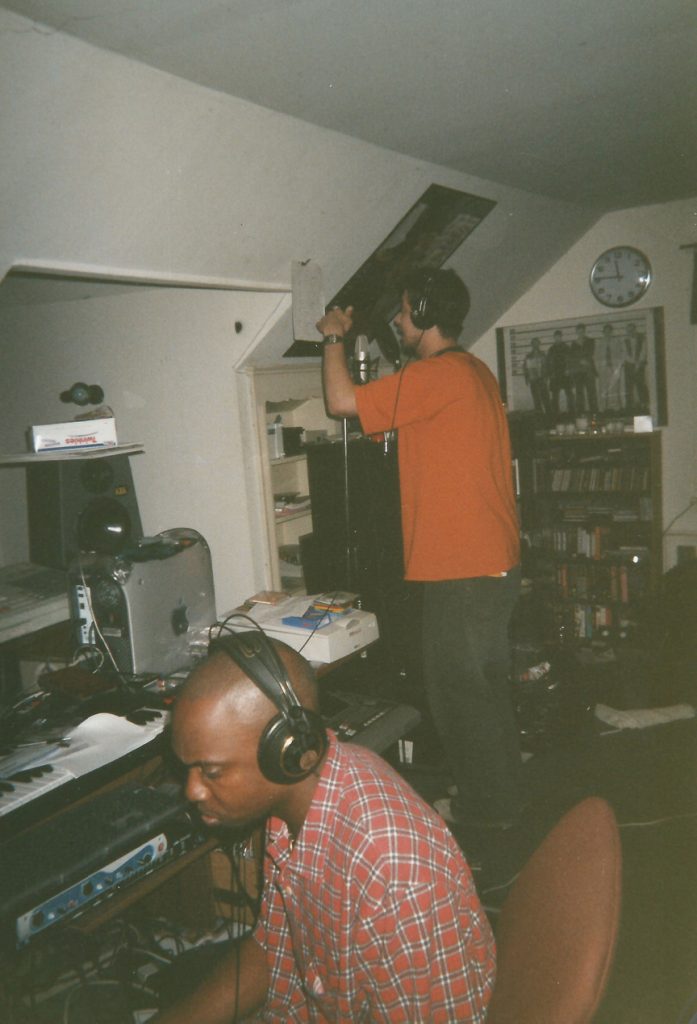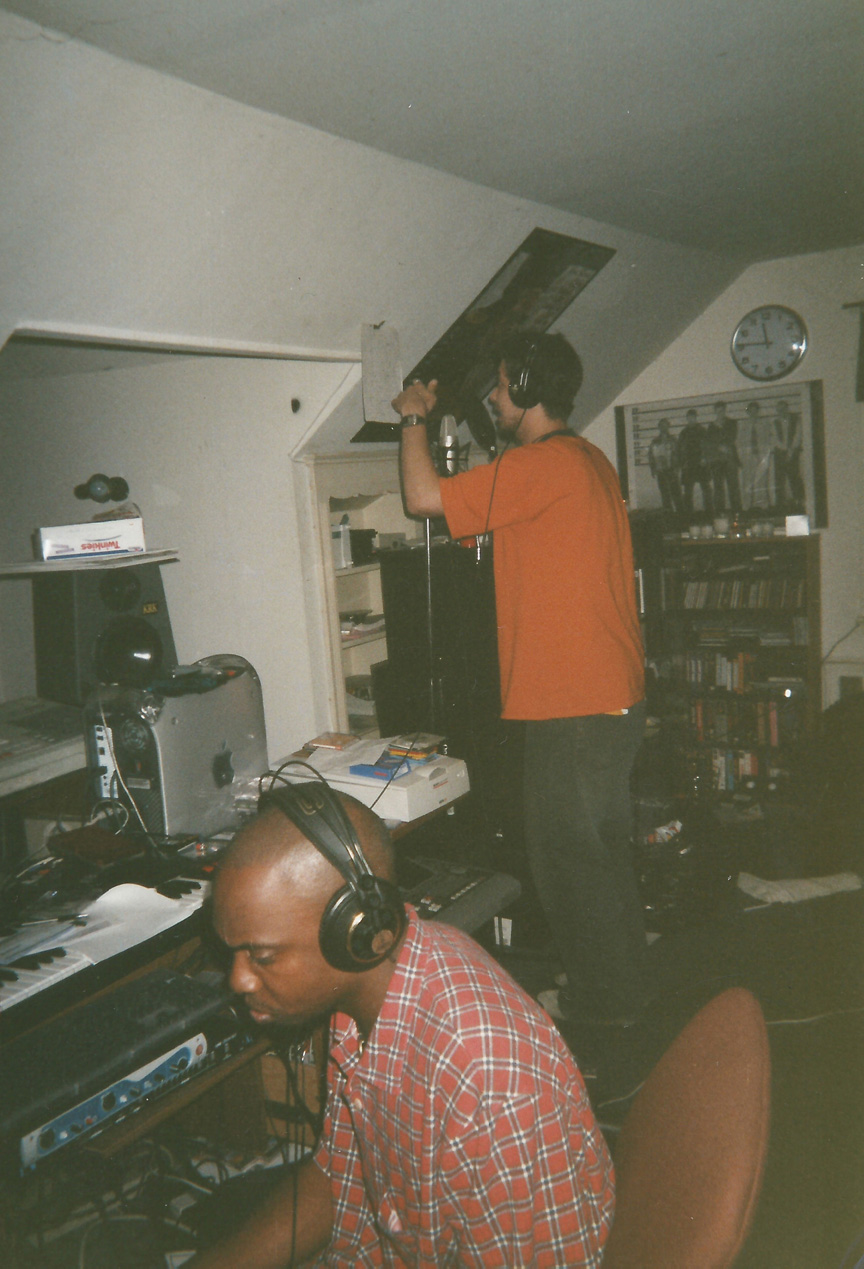 Blueprint continues his "A Thousand Words About A Picture" series by giving the background to this 2001 photograph:
This picture was taken by Illogic.  We are in Long Island, NY and it is the Summer of 2001.  The clock on the wall reads 11:45pm.  I'm seated with headphones on and at the microphone is Aesop Rock.  We are recording our classic collaboration "Alchemy."  I had already recorded my verse and was listening carefully to Aesop record his.  The studio space we were recording in belonged to our good friend Cryptic One of the Atoms Family.  It also doubled as his bedroom, and we would all crash on the floor there during our trips to New York. His bedroom probably wasn't big enough for three or four people to be sleeping on the floor, but he was a great host and always made it work.  If the frame were extended a little to the right, you would see Cryptic's fold out-bed and record collection right behind Aesop. Everybody else in the session was seated just outside of the frame to the right.

If you look above Aesop's left hand, you will see a piece of white paper thumb-tacked to the wall. His lyrics are written on that paper and he is reading them as he records.  In that era, taping or thumb-tacking your verse to the wall helped ensure the sound of paper crumpling up never got into the recording, which could be a real problem back then–especially if your rhyme was more than one page long.  It was common to see scraps of paper with other guys rhymes taped to the walls of recording booths you recorded at back then.

One obvious detail about this pic is that there was no vocal booth.  Although many people consider it a requirement, Cryptic One (who recorded, engineered, and mixed this session) always managed to get a great sound without one.  As fans of his music, we trusted his ear and skills.  That's why one bar before I start my verse, you can hear me say, "Cryptic One, the engineer, of this session right here."  The next thing you hear me say is, "I spit with an immense amount of power…"

If you look to the left of me you will notice the gear we were using back then. The blue and white Pro Tools Digi 001 (their first consumer model); an Ensoniq ASR-10 sitting on the desk above it; an iMac desktop; and the Akai MPC-2000 sitting right next to the speaker. I told Aesop I had a crazy beat in mind for the song, and as soon as I played it for him we knew it was the one. Once we tracked out the beat and laid the vocals, we let Cryptic One work his engineering magic, and the rest, as they say, is history.

We knew the song was dope when we recorded it, but I don't think either of us thought it would make the impact that it has.  So many people tell me that "Alchemy" was the first time they ever heard me and it made them go searching for my music.

It's hard to believe "Alchemy" was recorded 15 years ago. The first of many collaborations between me and Aesop Rock. Thanks to all the people who have been rocking with us for so long.
Blueprint's new Vigilante Genesis album produced by Aesop Rock is available now. Pick up your copy HERE