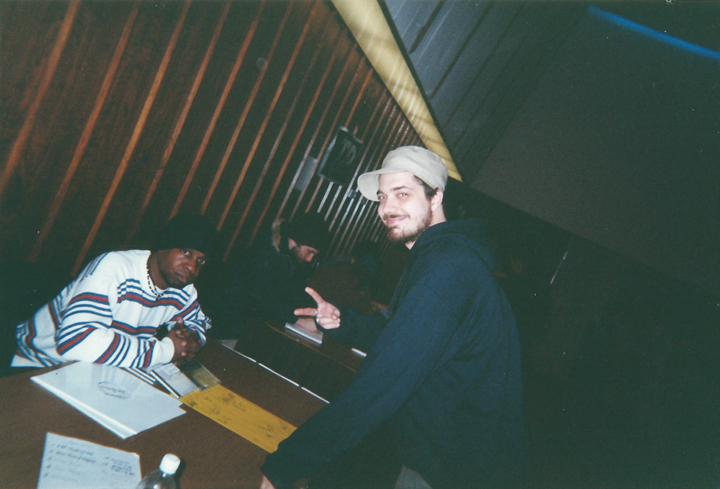 Blueprint Explains the Backstory to this 2001 Photograph With Aesop Rock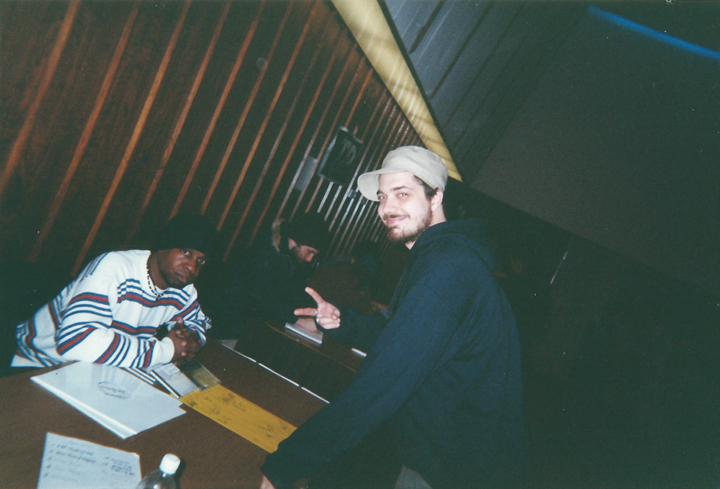 Since we posted this 2001 picture of Blueprint and Aesop Rock last week on our Vigilante Genesis preorder page, we've received a few inquiries for details behind the picture.  We decided to get a quote from Blueprint to explain the backstory because, as they say, a picture is worth a thousand words.
I think Illogic took this picture.  If I remember correctly, the picture was taken back in the winter of 2001. Aesop Rock and Sage Francis (you can see him in the background) had a show at a college in Minneapolis that weekend. I wasn't playing on the show, but Illogic and I caught the greyhound bus from Ohio to Minneapolis because the crew had decided to start recording The Orphanage Project (Slug, Illogic, Aesop Rock, Blueprint, & Eyedea) that week. So all of us who weren't performing decided to roll up to their show to hang out and support. This picture was taken in the back of the auditorium where I was holding down the merch table for my guys.

That week in Minneapolis, all of us would rotate between Slug's apartment in Uptown, Ant's basement on the South Side, and Eyedea's house in St. Paul writing and recording songs for the Orphanage project. I had brought my MPC-2000 and a gang of beats with me, so me and ANT split up the production duties for the record. I've got such fond memories of traveling around, sleeping on couches/floors, and doing music back then. I was still working full-time back then and had no idea that the musical seeds I planted back then would allow me start doing this full-time the following year. Even though only a few of the songs we recorded that week have been released, it was a great moment of coming together for all of us in the Orphanage. All of us (Slug, Illogic, Eyedea (Rest in Peace), Aesop Rock, and myself) have all remained great friends and collaborated a lot since then, 15 years later.
For those that missed the announcement, Weightless Recordings will be releasing Blueprint's new project, the Vigilante Genesis EP (produced by Aesop Rock) on May 27th, 2016.  You can preordering your signed copy here http://bit.ly/VGpreorder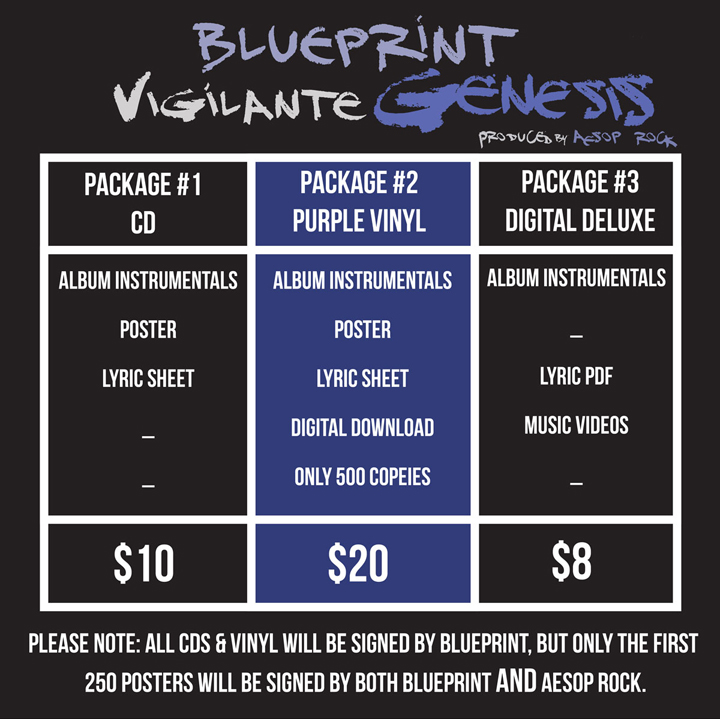 Weightless Recordings